SONIA SAVAGE
  \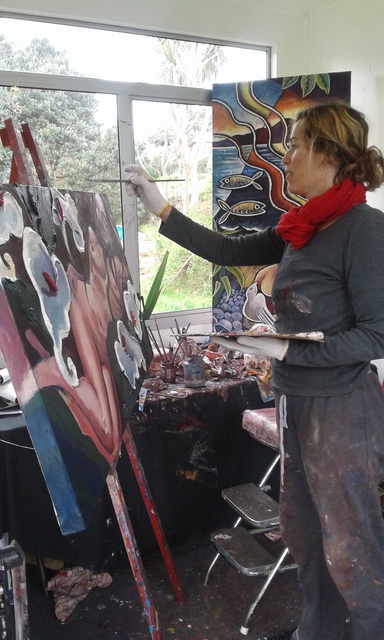 Sonia Works from her Studio which is based on the Kapiti Coast as a full-time artist. Combining her skill as an artist, texture, and work with texture multi media paintings, Sonia's work has become collectable for many New Zealander's and art appreciators around the globe.
Sonia has been working as a full-time artist in New-Zealand for the last decade.  A descendant of world-renowned artist Cedric Savage and grand-daughter of Kapiti Coast based artist Brian Trask.  Her skills have developed over the years starting from a very young age, and have predominantly been self taught, in later years gaining a Deploma & Honours at the Learning Conexxion in Wellington.  Her passion and her main focus reflects a stong and bold destinctive style which portray the world around her and events in every day life. It depicts a range of subject matter. Landscapes, townscapes, portraits and still-lives are frequent and very often more then one of these elements can appear together in a composition.
A unique trade-mark of Sonia's however, is "Snobby Susan" . Snobby Susan is a fictional character who manages to have a scene in her life once a year. The viewer gets to see a snippet of Susans' progress through her priveliged journey. These depictions are humorous and antecdotal and portrayed in a stylised manner.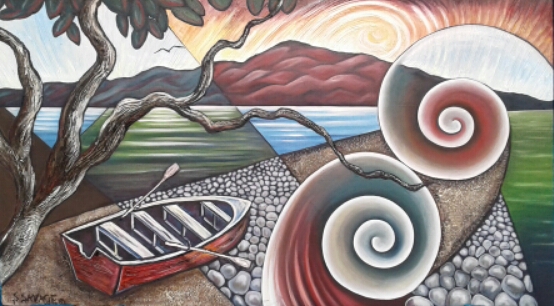 Exhibitions/Galleries
Awards and Private Collections:
-  1998 - Delux Cafe - Solo exhiibition
-  2006 - Awarded for Merit, Rotary Art show, Best Flora
-  2007 - Awarded for 1st,  best representative of the Kapiti Coast, Rotary Art show
-  2007 - Accademy of fine arts - group exhibition
-  2002 - 2013 KAPITI ARTS TRAIL - Solo Exhibition - Open studio
-  2009 - Guest artist - Rotary Art show - Solo Exhibition
-  2009 - Exhibited in the Affordable Art show as a solo exhibition WALL space 
-  2010 - Rosetta cafe - Solo Exhibition
-  2010 - Coast to Coast - Solo Echibition
-  2011 - Solo exhibition for renowned pianist Micheal Houstoun 
-  2011 - Vella on the Coast - solo exhibition
Galleries Sonia's works are featured :
-  Artel Gallery - Waikanae, Kapiti Coast
-  Art of this world Gallery - Devonport - Auckland
-  Van Helden Gallery - East bourne
-  Paraka Gallery - Porirua
* Sonia's works are featured as commission works for Darren Hughes (previous MP of Lavour Party, - in Parliment), big commissioned piece for Kapiti Coast Council 
and many more.